Not for Profit Resource – New Zealand
www.not-for-profit.org.nz
An independent resource for NZ charities and non-profits
We are pleased to offer this site to provide co-operative support to Not for Profit (non-profit) organisations and charities in New Zealand and those considering establishing such bodies.
The charity (nonprofit) sector in NZ is vibrant, diverse and active. In June 2016, Statistics NZ stated that Non-profit organisations contribute $6 Billion to the NZ economy.
The advent of the Charities Commission (now Charities Services, a part of the Department of Internal Affairs) in 2005 led to much discussion about not-for-profit organisations and a surge of registrations to become a NZ Registered Charity.
The introduction of accounting standards by the XRB and the subsequent requirement that Registered NZ Charities render a Performance Report to XRB standards as part of the Annual Return has generated considerable discussion and interest.
A draft Bill to amend the Incorporated Societies Act 1908 has been released for discussion and submission and is moving its way (slowly!) through the legislative process.
-o0o-

FREQUENTLY ASKED QUESTIONS (FAQ) ABOUT NFPs IN NEW ZEALAND
We receive a number of requests for information about non-profit organisations and charities in New Zealand and their organisation etc.
In the hope that it may assist, we provide a number of responses to frequently asked questions (search for the topic or tag at right under 'Posts' or 'Archives') based upon our experience. We wish to stress that not-for-profit.org.nz cannot accept any responsibility for any information provided here. This information is provided in good faith and any errors or omissions are regretted. Please let us know of any errors you find.
As the government information pages change frequently there may be errors in some links. Please advise the webmaster of any mistakes or dead links you note in these pages.
Sign Up for our monthly newsletter
__________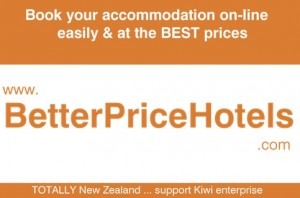 We are grateful to betterpricehotels.com who sponsor this site.
Worldwide accommodation bookings.
Commissions support non-profit websites
Please support our sponsors
Plans to review the Charities Act beginning to take shape
Non-profit organisations contribute $6 Billion to [NZ] Economy